Congregational Church Sheldon Vermont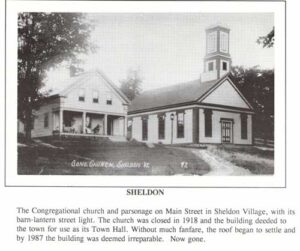 Preaching began around 1807 in private homes with The Congregational Church of Sheldon organized in 1816 with 12 members. Having no church structure they shared use of the "Rock" with the Methodists until they built their own church in 1862 with George Talman installed as the first pastor on July 10, 1862.
In 1965 they built a parsonage immediately to the left of the church that still stands today as an Historic Main Street home.
After a prosperous 80 years with a total membership of 225 the membership fell off until in 1936 there were only 6 members.
The church building closed and was given to the town of Sheldon to be used as a Town Community House the purpose of which it served until going into disrepair and being torn down.