United Methodist Church – Methodist Episcopal Church Sheldon Vermont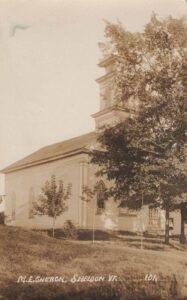 In 1813 Rev. Issac Hill arrived in Sheldon to preach at local meetings in homes and public buildings. A great revival results the 1816 when Rev Brayton converted many of the residents of the East Sheldon area. In 1830 the Union House at the "Rock" was built to share with others including Congregationalists.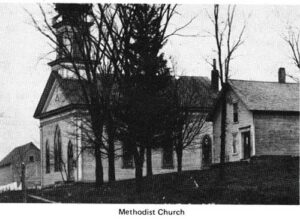 The original church in the village that continues in use today was raised in 1859 with the now removed parsonage built in 1868. In 1890 the church drew in 125 members. The building has been renovated several times since then with the addition of a furnace, a memorial organ, and a new chandelier given by Clarence, Dorothy and Kevin Bocash was installed in 1971.
Between July 3 and 5 in 1937 the church held a "Home Coming Event"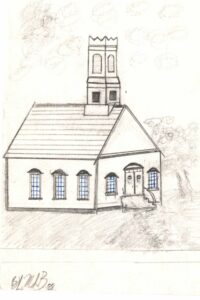 On May 11, 1959 the church held its Centennial Celebration.
The Drawing to the left was from a local youth.