Since 2016 the Sheldon Historical Society hosted a multitude of events.  All work but no play makes for a dull organization, but our society relishes the idea to be the host of festivities and fun events as you can recall below.
The Sheldon Historical Society 2022 Annual Meeting
June 9, 2022
2021
Community Organizations partner to show the best in each and to enhance the common good in our community.  The Sheldon Raiders Home Dem Club along with the Sheldon Historical Society combined forces during July 3 to present The Festival of Quilts.
On July 3 Kids Quilting Camp brought school children along with adults to the Grist Mill Park to engage in "quilting"
The Sheldon Raiders Home Dem Club maintained display and sold quilts at the Museum during July.  Recently they published A Barn Quilts of Northern Vermont site that you will enjoy immensely.
The Museum and Grist Mill Park received a "Quilting" uplift prior to the Festival of Quilts BBQ on Saturday July 17 and the  Ice Cream Social on Friday July 20.
Friday August 20,2021 Ice Cream Social
If you have not done so, you need to stop by the Grist Mill Park opposite the museum on Bridge Street.  The clean up and citizen utilization of the park, the benches, and the lawns salutes the pride of Sheldon citizens in their community.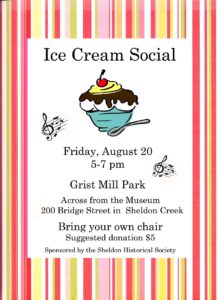 2020
October 24 2020 Sign and Mural Dedication
Post Office mural by Pat Murphy and Sheldon Historical Museum sign by Jon Johnson. Thank You!
October 16, 2020 Pig Roast
"Food, Music, Fun" all help to definite the interests of the members of the Society who gather often NOT TO WORK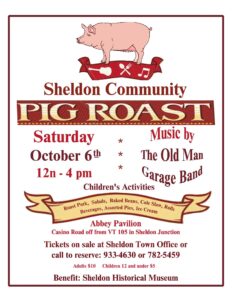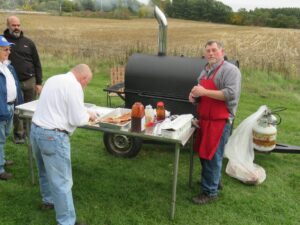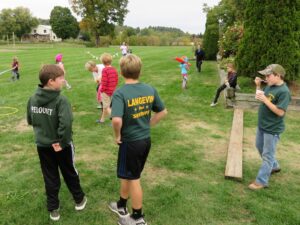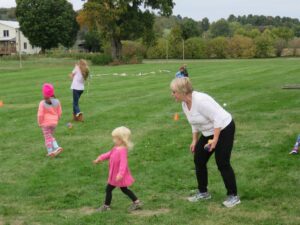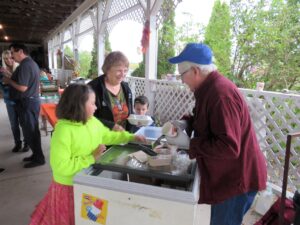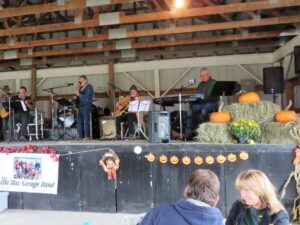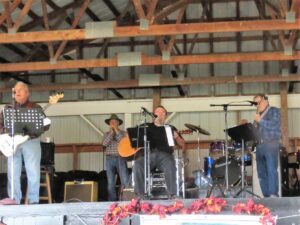 October 2020 Dedication of Sign
The Sheldon School History Club in conjunction with the Sheldon Historical Society conducted research on the many historic houses on Main Street.  In conjunction with the Champlain Valley National Heritage Project they were able to have a two sign kiosk built on Main Street for visitors to explore. In October 2020 we gathered to honor those students and to dedicate the site.
2019 & 2018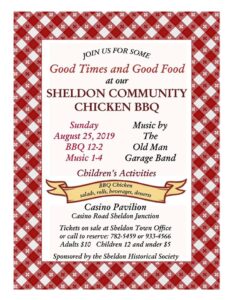 August 25, 2019 Chicken BBQ
Ladies Tea Party 2017, 2018, 2019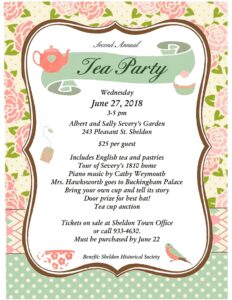 For three consecutive years ladies of the Society sponsored Afternoon Tea Party gatherings to have fun, gather as in old days, and to enjoy the food and company.  Not all work for this group.  Join us for more fun.
2017
Aug 12 40th Army Band Concert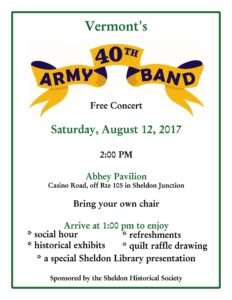 May 26 Benefit Dinner – Abbey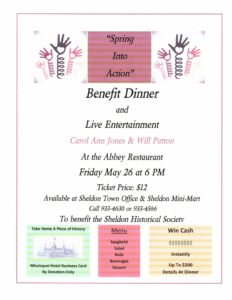 2016
Friday May 27, 2016 Spaghetti Dinner and Live Auction at the Abby.