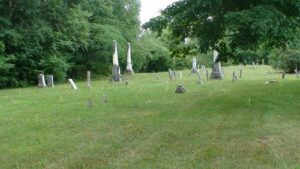 An over all view of the cemetery taken in July 2018. The grass has been mowed. This is not an active Sheldon Cemetery. Known as Webster Cemetery it became the final resting place for the Webster family. Oldest known grave was of Jason Webster who died in March of 1804.
Photos of monuments taken in July 2018
Here is full listing of the graves in the Webster Cemetery Taken from FIND A Grave Click on any name for site details on the various individuals buried here.
Curtis Austin
unknown – 20 Jan 1858

Elizabeth "Betsey" Spencer Beard
4 Apr 1788 – 12 Jan 1839

Jessie H Brown
unknown – 17 May 1859

Mary Durkee Brown
10 May 1801 – 1856

Merrel P Brown
unknown – 23 Jan 1829

 Nathan Brown
unknown – Apr 1817

Noah Brown
unknown – 4 Mar 1850

Polly Bancroft Brown
unknown – Jul

 Sarah Clark Brown
unknown – 10 May 1883

 Willie N Brown
unknown – 16 May 1868

Albert B Chappel
unknown – 21 Aug 1932

 Amanda M Chappel
unknown – 28 Sep 1844

Ephna Ophelia Chappel
unknown – 25 Aug 1866

Julia Webster Chappel
12 Apr 1792 – 27 Mar 1871

Nathan W Chappel
unknown – 5 Aug

Norman W Chappel
unknown – 9 Oct 1893

Sarah J Ross Chappel
unknown – 1873

 Unknown Chappel
Birth and death dates unknown.

Andrew Durkee
25 Sep 1796 – 5 Jan 1876

Carrie Prescott Durkee
25 May 1835 – 25 Feb 1863

Henry Durkee
unknown – 22 Sep 1890

Lorin Durkee
26 Nov 1829 – 26 Jun 1883

Mahala J Clark Durkee
unknown – 22 Jul 1870

Nancy Orcutt Durkee
26 Feb 1804 – 24 Oct 1890

Polly Stearns Durkee
unknown – 22 Sep 1890

William Durkee
unknown – 5 Oct 1843

Luther M. Harrington
14 May 1827 – 7 Apr 1850

Matthew L Harrington
22 Sep 1853 – 1 Jun 1856

Matthew W. Harrington
4 Jun 1831 – 9 Apr 1853

Nancy Elizabeth Harrington
16 Oct 1840 – 25 Jun 1861

Obed Harrington
6 Jul 1836 – 6 Nov 1836

Elsie "Elsa" Stafford Hazard
1797 – 26 Aug 1890

Eunice Hazard
4 Jul 1827 – 11 Oct 1878

Sarah K Durkee Hazard
16 Feb 1828 – 10 May 1851

Wanton Hazard
18 May 1797 – 4 Oct 1873

Harley Manley
unknown – 9 Sep 1835

Leister Manley
unknown – 16 Mar 1831

Heman McClure
unknown – 21 Apr 1832

Amos Orcutt
unknown – 5 Aug 1820

Fanny Orcutt
unknown – 16 Jun 1883

????? Caroline Robinson
unknown – 10 Jul

Rev A. W. Robinson
unknown – 13 Feb 1877

Brown Robinson
12 Jul 1799 – 22 Feb 1862

Ethel M Robinson
1 Dec 1873 – 15 May 1875

Frances L Robinson
unknown – 27 Jan 1850

Harriet E Keith Robinson
27 May 1824 – 6 Oct 1917

Henrie H Robinson
30 Mar 1856 – 4 Nov 1862

 Horatio Robinson
13 Sep 1822 – 16 Oct 1891

 Lizzie E Robinson
11 Mar 1853 – 27 Oct 1862

Phebe Butler Robinson
14 Oct 1764 – 15 Mar 1840

Sally Orcutt Robinson
7 Nov 1801 – 23 Jan 1881

Stephen Robinson
1760 – 19 Feb 1843

George Severance
1808 – 6 May 1836

Hannah Sevrence
unknown – 8 Jun 1839

Caroline Clark Smith
22 Sep 1822 – 10 Nov 1891

Caroline Robinson Smith
18 Sep 1820 – 11 Jul 1849

Elizabeth Laytan Smith
unknown – 13 Oct 1902

John Smith
Birth and death dates unknown.

John Smith
unknown – 2 Dec 1873

Martin Smith
unknown – 25 Feb 1843

Prudence "Prudy" Percy Smith
1803 – 12 Jul 1845

Rev Session R Smith
unknown – 24 Apr 1892

Wallace Smith
Birth and death dates unknown.

Albert R. Spear
unknown – 13 Jan 1867

 Sarah Spear
Birth and death dates unknown.

 Asa Stearns
1798 – 19 Sep 1864

Benjamin Stearns
1764 – 28 Jan 1837

Charlotte Stearns
1794 – 29 Mar 1864

Sarah "Sally" Crawford Stearns
unknown – 14 Jan 1850

Versa L Stearns
1831 – 2 Aug 1840

Wanton N Stearns
1825 – 12 Jul 1861

Moses Surrett
1814 – 25 Feb 1890

Cornelia Unknown
Birth and death dates unknown.

 Esther Birchard Webester
4 Apr 1805 – 26 Feb

??ames Webster
unknown – 10 Oct 1807

Hannah Webster
unknown – 14 Dec 1814

James Webster
3 Feb 1768 – 26 Oct

Jason Webster
unknown – 28 Mar 1804

Lendy Webster
unknown – 2 Aug 1841

 Levi M Webster
1 Sep 1809 – 19 Mar 1859

Mary Webster
unknown – 13 Aug 1813

Mary Webster
unknown – 7 Jun 1831

Jedediah Weeks
1805 – 12 May 1820

Capt John Weeks
2 Jan 1779 – 2 Jun 1810

Mary Ann Beard Weeks
25 Mar 1811 – 17 Jan 1837

Philo Weeks
4 Dec 1804 – 18 Jan 1875

Agnes White
unknown – Apr 1848

 Anna S White
unknown – 21 Apr 1843

Eunis White
unknown – 11 Dec 1818