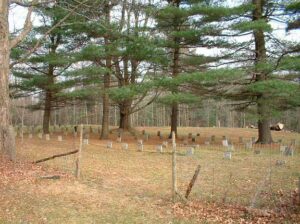 Vermont law continues to allow for the burial of one's remains in any location.  The provisions for the poor only mandated that the remains be shrouded such as in a blanket and buried according local cemetery policy.  Some of the poor interned at the Webster District Cemetery may be in unidentified graves since no monuments needed to be erected for them.  The site in Sheldon Springs, however, provided for a simple stone for each deceased poor.  Likely some of the graves went unmarked and record recording proved to be poor at best. Excavation on the property identified as the Poor House during the 1980s did reveal some skeletons.  
Also known as the Sheldon Home Association this was one of the many Vermont Poor Farms established to care for the less fortunate. This cemetery is located on the end of the Poor Farm Road. After going past the school continue to the end of the road where it joins three other roads. The one directly ahead is private and goes to a camp and the one to the right goes to the cemetery. Look closely to your right as you go up the road since it is back in the trees. It is opposite a mobile home less than 1/4 mile up this road.
See our Poor Farm page for details.
When the Poor Farm ended it term of service to the towns of Franklin County , the cemetery known at that time as the County Home Cemetery stood in poor shape.  The property owner along with Father Bernard J Bechard the pastor of St. Anthony's Church campaigned to have the cemetery cleaned up by the Town of Sheldon.  The land was cleared of trees and brush and stones revealed more graves than originally thought. The Sheldon Historical Society posses an 8 page document of these findings including the alphabetical location of every internment with dates of birth and death.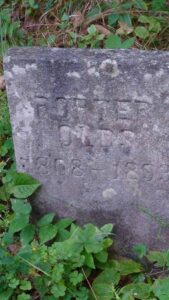 Most of the headstones in the cemetery are legible. According to Find a Grave there are 235 memorials here. The cemetery is in poor condition with need of cleaning up, clearing some brush, and mowing. The only graves that appear to be attended are those of former military service persons. Many of the stones are cracked, not readable, or laying on the ground. The "Poor" buried here had few if any relatives to visit their sites. There is a list of names with few duplications. We found at least one child age 10 buried here.
Patricia Araugo recently posted two videos on her Facebook page "Travel for History"
Sheldon Poor Farm Cemetery Part 1
Sheldon Poor Farm Cemetery Part 2