Royea Property – Most Noticeably the Dr. Seth Langdon House
Historic Line of Ownership by deeds in the Sheldon Town Hall
Original owner was Stephen Royce prior to 1835 who sold to Curtis Goodsell who in turn sold to H M Lockwood in 1836. No house built
Jacob Wead owned from 10/26/36 until 1850 and likely built the house which also contained the "Red Store" noted in many other deeds.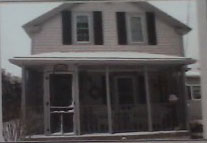 In 1850 the property went to D D Wead the son until 1852
From 3/16/1852 until 1853 Charles and Charity Wheland owned it
Dr Seth Langdon purchased the property on 6/14/1853
Seth Langdon passed the property to Harrison L Langdon on 4/21/1891
For a brief period of time Weeks and Lonnie Graves owned the property
Graves sold to Hazel Dunsmore on 6/9/1913
The property passed by bankruptcy to UVM on 8/13/1935
On 5/24/1938 Mamie and Marjorie Beeman purchased the home
On 10/31/1946 Pearl D Wilson became the owner
On 11/19/1946 the Missisquoi Corp took temporary ownership
On 2.5.1947 Donald and Lillian Little purchased – lived here for 26 years
On 10/28/1983 Arnold and Judith Royea purchased the home
On 9/20/2018 Christopher and Nicole Lieske purchased the home.
1982 Vermont Division For Historic Preservation Sheldon Survey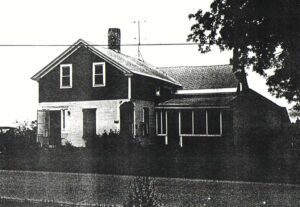 Owner not shown Common Name: Dr Langdon House
l-shaped: 1 1/2 story gable front, side hall plan with 2 bay ell. Late Greek Revival and Queen Anne alterations. Straight and fish-scale shaped wood-shingled 2nd floor, clapboarded below. box-cornice and returns. Entry: shallow entablature over 3.4 sidelights flanked by recessed-pannelled pilasters with Greek-fret design. S.W gable-front corner is clipped with scroll brackets. Stained-glass sash on NW corner. Ell porch: turned Queen Anne posts, square valance, shingled apron.