Historic Line of Ownership by deeds in the Sheldon Town Hall
Before 1885 John Draper owned a large parcel of property that he likely purchased from the Sheldon estate.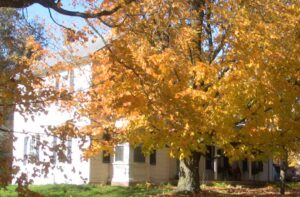 7/20/1885 George and Susand Maynard bought from John Draper
On 7/5/1892 an unusual transaction occurred with George Maynard deeding property to Susan Draper and Susan Draper deeding property to Susan Maynard on the same date. George and Susan continued to live on the property until 1926
7/31/1926 Fannie L Brown bought
11/12/1952 Georgianna Marnard and Bertha Carpenter
6/25/1968 Ralph and Andrea Estabrook
4/3/1990 Randall and Molly Swainbank
11/11/1999 Amy Farnham purchased continues to live there
Apparently in 1885 John Draper sold to George W Maynard land on which he built a home in 1890. Several deeds demonstrated transfer of ownership by virtue of death and divorce and an exchange involving Bert Tillotson in which he took ownership from Georgianna Maynard and then transferred ownership to Georgianna Maynard and Bertha M Carpenter. They lived on the property until the estate of Bertha Carpenter was settled in 1986. Ms Carpenter and Ms Maynard lived in the home from 1952 until their respective deaths. Ms Carpenter was the Sheldon Town librarian for many years.
1982 Vermont Division For Historic Preservation Sheldon Survey

Owner: Bertha Carpented Built c. 1895
L-shaped, 2 1/2 story Victorian-era house: aluminum siding. 5×2 bat, gable roof, open eaves. Shuttered 2/2 sash. Pair of Italianate glass-paneled doors on right gable-front. Hexagonal bay window on gable-front, left, has scroll-bracketed cornice, paneled spandrels. Front porch: flat posts have scroll brackets, square balusters, lattice foundation cover.
Also on property is a horse barn built around 1890